It's that time of year again! In a little under three weeks, I'll be heading off to Hollywood for the 2018 TCM Classic Film Festival. The festival is always one of the big highlights of the year for me and I'm ridiculously excited to get out there for this year's line-up.
As always, there were a lot of hard choices to make. In a few cases, there were so many things to choose from that I'm just going to wait to see how I feel the day of. But after much hand-wringing and over-analyzing, I think I have my general plan figured out. I fully expect my plans to change a little bit — they always do. But for now, here's where I'm planning to be:
Thursday, April 26
Over the past few years, watching the red carpet arrivals has been my favorite way to spend opening night. It's a lot of fun and a good way to see some of the special guests who I otherwise wouldn't get a chance to see. Whether or not I make it to the first block of movies is pretty up in the air, though. I would absolutely love to see Finishing School, but there's a good chance I'll end up needing a dinner break. After that though, I'm definitely in for Throne of Blood. Even if I miss Finishing School, seeing the famous arrow scene in Throne of Blood seems like an excellent way to start the festival.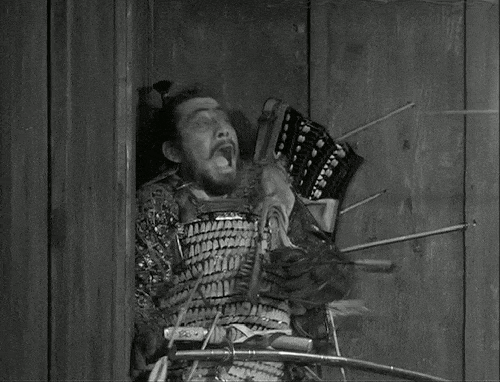 Friday, April 27
Right off the bat, I have to make some hard choices here. For the first block, it's awfully hard for me to pass up the chance to see Strangers on a Train or Ernst Lubitsch's The Merry Widow on the big screen. There's also a screening of some Pink Panther cartoons, which would be fantastic. And in the second block, there's Witness for the Prosecution at the Egyptian, which had been one of the early announcements I was most excited for. But I actually don't think I'm going to go for any of those. Instead, I'll most likely go check out Grand Prix at the Cinerama Dome. It really, really pains me to miss Witness for the Prosecution, but I've never been to a screening at the Cinerama Dome and I've never seen Eva Marie Saint introduce anything, so this seems like a great opportunity.
Opting for Grand Prix also gives me a little more flexibility for the next block. The two I'm most interested in next are How to Marry a Millionaire and the presentation of Harold Lloyd's work with 3D photography, as well as some of his short films. If I had done Witness for the Prosecution at the Egyptian, that would only leave me with a few minutes to get to Millionaire or I'd be taking a gamble on whether or not I could get to the Linwood Dunn Theater for Harold Lloyd, since that theater seats less than 300 and I wouldn't exactly be able to line up early. But with Grand Prix, I have more time to work with either way. I'm leaning toward the Harold Lloyd presentation since that sounds like the more unique experience, but I could see myself being swayed by Lauren Bacall, Marilyn Monroe, and Betty Grable.
Another star I was very excited to hear would be at TCMFF this year is Marsha Hunt. I have never seen None Shall Escape and with Marsha Hunt there to introduce it, this is one of my must-sees. After that, I'm hoping to quickly get something to eat before I Take This Woman. A rare pre-code starring Carole Lombard and Gary Cooper — I'm sold just on that premise.
After that, I'll be heading to Will Success Spoil Rock Hunter. I love this movie; it's hilarious and it would be so much fun to see it with a crowd. In fact, one reason why I'm tempted by How to Marry a Millionaire is because I feel like getting to see a Marilyn Monroe movie and a Jayne Mansfield movie on the same day would be amazing. Lastly, I'll be down for The World's Greatest Sinner at midnight. I've never seen it, but it sounds like the kind of gloriously crazy movie that makes the midnight screenings at TCMFF so memorable.
Saturday, April 28
Once again, I'm starting the day off with a lot of hard choices. In the first block, His Girl Friday, The Ox-Bow Incident, Kiss Me Deadly, Love Finds Andy Hardy, and A Letter to Three Wives are all playing at the same time, as well as an event over at the ASC Clubhouse. If I had to make my choice today, I'd go with Kiss Me Deadly, but I have a feeling this is just going to come down to how I wake up feeling that day.
After that, I'll most likely be heading to theater 6 in the TCL multiplex for When You Read This Letter. I recently watched Le Samourai for the first time and loved it, so I'd be very happy to see another Jean-Pierre Melville movie. Although This Thing Called Love sure sounds intriguing.
Now we're at some of my hardest decisions of the festival. At the Egyptian, there are three movies in a row I'd be delighted to see on the big screen: Wife vs. Secretary, Girls About Town, and Show People. But then there's Sunset Boulevard at the Chinese Theater, introduced by Nancy Olson, and Hollywood Home Movies at the Roosevelt. Normally, I would say that Sunset Boulevard is something I'd likely to see in a theater at home. But it's a movie I've been dying to see on the big screen for several years now and the Chinese Theater would be the perfect place to see it. I've also done Hollywood Home Movies every year that I've attended the festival and I've loved it every time. It's a tough call, but I think Sunset and Hollywood Home Movies win out here. I figure that at least the other movies have the potential to get a TBA slot on Sunday.
For the second-to-last block of the day I'm very excited to see the 1932 version of Scarface on the schedule. But I was also just thinking recently that I haven't seen The Big Lebowski in a really long time. I'll most likely go with Scarface, but if there are any last-minute guest additions for Lebowski, my choice could get even harder.
Tonight's midnight movie is one of my big must-sees this year's festival: Night of the Living Dead introduced by Edgar Wright. I just got the new blu-ray of this from Criterion and the restored print is absolutely amazing, so I can't wait to see it on a big screen.
Sunday, April 29
I usually don't get my heart set on too many things in advance for Sundays during the festival. Since there are several TBA slots for movies that were popular enough to deserve a second screening, and there are several movies I'm hoping will take the TBA slots this year, this approach holds very true once again. But if I were to go just based on the things I know will definitely happening, I'd choose Woman of the Year, Places in the Heart, either Silk Stockings or the presentation on almost-lost films in Club TCM, and either A Star is Born or Animal House.